The problem is that most people think they have to go gym and has to train multiple hours to build muscles, be active and lead a healthy active lifestyle. That's not true. You don't need to have a gym membership or train for hours to gain all the associated benefits. However, if you want to improve your fitness levels, build lean muscles, save time and money then the High Intensity Training (HIT) is the answer. So what is HIT? HIT is an intensive exercise ranging from a few seconds to eight minutes long, and are performed at 80 to 95% of an individual's estimated maximum heart rate.
HIT is rapidly growing exercise with a lot of scientific research behind it. Many sports and exercise, as well as public health scientists have compared HIT Vs aerobic (e.g. walking, running and other type of exercises and concluded that HIT is the solution for many health related problems and can help numerous metabolic factors as well as helps reduce the risk of stroke, acute coronary syndrome as well reducing weight, and overall cardiovascular mortality.
The benefits of HIT
The benefits of HIT are countless and beyond the scope of this article to cover but I will highlight some benefits of engaging in regular HIT. The HIT has been shown to improve:
1. Aerobic and anaerobic fitness
2. Blood pressure
3. Cardiovascular health
4. Insulin sensitivity
5. Cholesterol profile
6. Reduce abdominal fat and body weight
Aerobic Exercises
If you are regularly engaging in any of the aerobic exercises mentioned below, why not try to convert it into HIT and achieve more in short period of time? Give it a go you won't regret it.
Examples of typical aerobic exercises are
1. Walking
2. Running
3. Stair climbing
4. Cycling
5. Rowing
6. Swimming
7. Cross-country skiing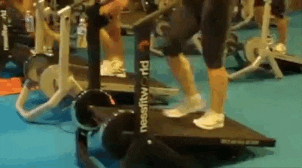 How can inactive individuals start HIT?
This is one of the question that I was eager to explore. For an inactive individual who hasn't exercised for a while or his/her daily work is sedentary (sitting) then I would suggest you start off slow and then gradually increase the intensity and duration of the exercise before attempting HIT. Also if you are undertaking HIT or any other type of exercise with groups of family, friends and colleagues it is crucial not to compare yourself to others and just focus on the intensity level that is right for you.
Advice for active individuals
If you're an active individual I am sure you would like to know how to test the intensity and challenge your HIT further? Various sources suggests many different ways but one of the best and easy way to test the intensity of your HIT is the "TALK TEST". The idea behind the talk test is when you undertake HIT it should be difficult to hold a conversation while performing the activity. The simple way of challenging yourself is to reduce the rest period and increase training/activity intensity and duration as well as adding an extra HIT session to your weekly training routines.
What type of exercise I should conduct?
The exact type of exercise, intensity and duration are varied and depends on your current fitness level and your goals to accomplish. It is also worth mentioning that HIT workouts are more exhaustive compare to steady endurance training/workouts. Therefore, a longer recovery period is often required. If you want to add HIT into your weekly exercises, I would suggest you start with one HIT session per week with your other training being steady state and then as you go along keep adding more sessions.
About Ayaz Safi
Ayaz Safi, is an assistant lecturer and a Ph.D. researcher at Birmingham City University in the faculty of Health, Education and Life Sciences in the department of Sport and Exercise. His current research is to identify new ways to increase employees, physical activity levels, optimise adherence, and in turn improve their health and well-being in the workplace.